Please enable JavaScript in your browser.
Banners
Promote MailboxValidator on your web pages using our banners. 3 different designs are available.
To display a banner on your web page, simply copy and paste the following HTML codes into your web page.
Replace the <AFFILIATE_ID> with your affiliate ID. You can obtain this ID at the account area.

Banner Design 1 (728 x 90)

<div>
  <a href="https://www.mailboxvalidator.com/?ref=<AFFILIATE_ID>#mymailboxvalidator" target="_blank">
    <img alt="MailboxValidator" src="//mailboxvalidator.hexa-soft.com/images/mailboxvalidator_banner1.jpg" />
  </a>
</div>
Banner Design 2 (300 x 250)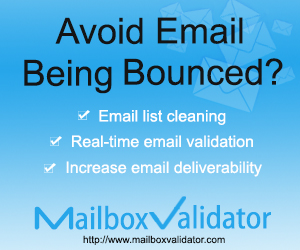 <div>
  <a href="https://www.mailboxvalidator.com/?ref=<AFFILIATE_ID>#mymailboxvalidator" target="_blank">
    <img alt="MailboxValidator" src="//mailboxvalidator.hexa-soft.com/images/mailboxvalidator_banner2.jpg" />
    </a>
</div>
Banner Design 3 (160 x 600)

<div>
  <a href="https://www.mailboxvalidator.com/?ref=<AFFILIATE_ID>#mymailboxvalidator" target="_blank">
    <img alt="MailboxValidator" src="//mailboxvalidator.hexa-soft.com/images/mailboxvalidator_banner3.jpg" />
  </a>
</div>