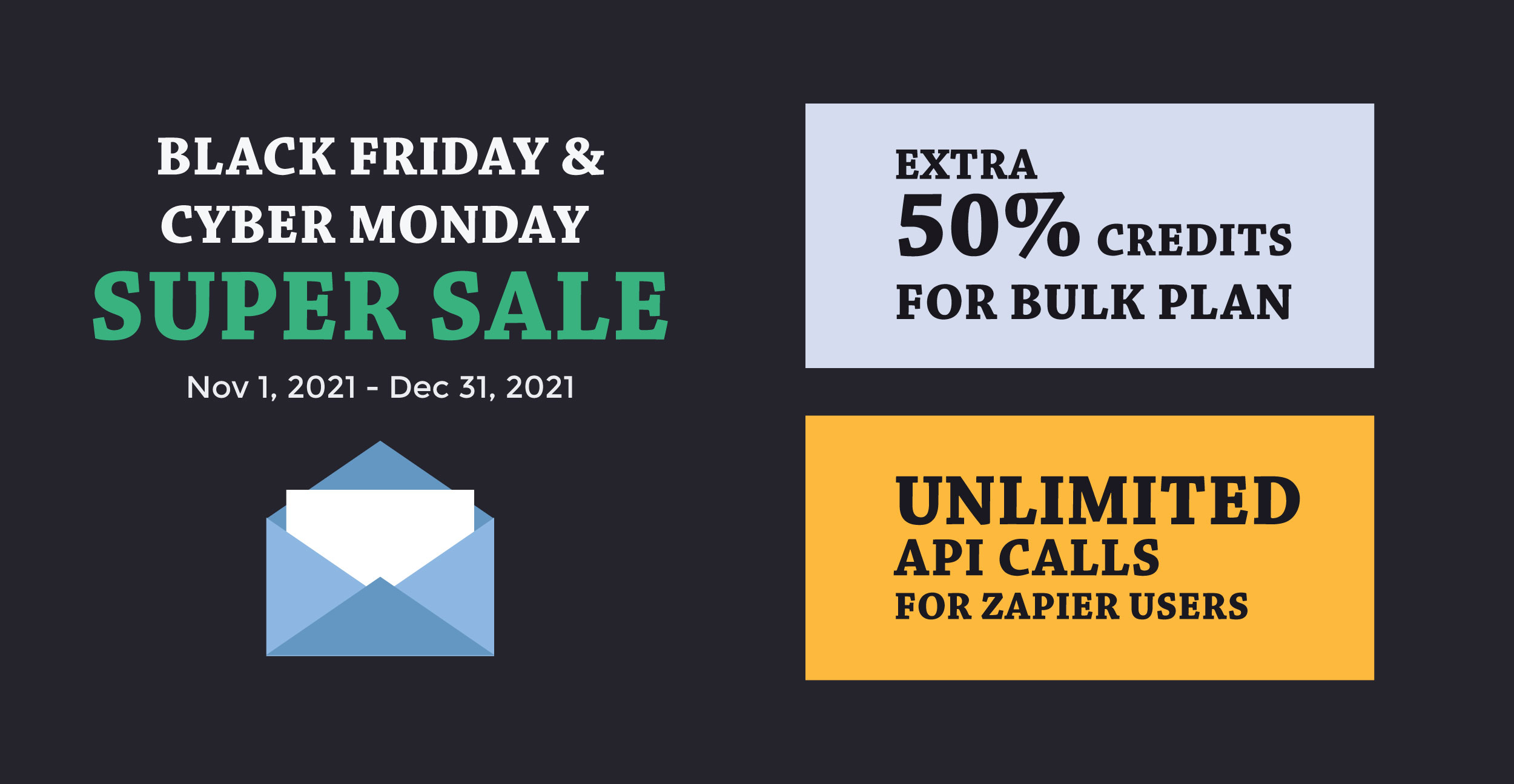 Intro
Hello everyone!! We hope everyone is hanging in there. It's been a challenging couple of years for everyone so we at MailboxValidator would like to give you all some good news. Our promotion for this year's Black Friday & Cyber Monday is back!! This year, we have a new special addition to our usual promotion. Zapier users who are calling the MailboxValidator Zapier app will not incur any deduction of their MailboxValidator API credits. Woohoo!! In other words, unlimited API calls if you're using the MailboxValidator Zapier app.
What is Zapier?
Some of you might be wondering what is Zapier about? Zapier is a web automation tool that allows non-technical users to integrate web applications and automate actions between your account and thousands of other online applications that are connected with Zapier.
Read more about our Zapier app.
Additional credits for bulk plan purchases
Our crowd favorite promotion is back. As with last year's Black Friday & Cyber Monday promo, any bulk plan purchases made from 1st November 2021 till 31st December 2021 will get an additional 50% more credits. Same prices, but with more value added. What's not to like, right?
Take this opportunity to clean your holiday email marketing campaign list. We help you get more done, at the same price you would normally pay. Clean your list and let's help you make more money!!
New Zapier promotion
For those who are interested to try out our Zapier app, check out the link above to get started. Zapier is easy to get started and they have free trials as well as a free plan. Give it a go and you'll see how easy it is to call the MailboxValidator service via Zapier. No programming is required.
Watch how to use the MailboxValidator Zapier app below:
From 1st November 2021 to 31st December 2021, you can make unlimited calls to the MailboxValidator API via the MailboxValidator Zapier app. The best thing is even users on the MailboxValidator free API plan are included in this promotion. As long as your API subscription is still active, your API credits will not be deducted when you call the MailboxValidator Zapier app.
Conclusion
We realized that not many businesses are unscathed by the Covid-19 pandemic, hence we try to give more value to our customers, especially during this busy holiday shopping period. We hope our promotion will help our customers get back on their feet and come back even stronger as we ride out the pandemic together.
---
Get started with MailboxValidator
Improve your email deliverability and sender reputation in email marketing.
Register today and clean your email lists for FREE!
---