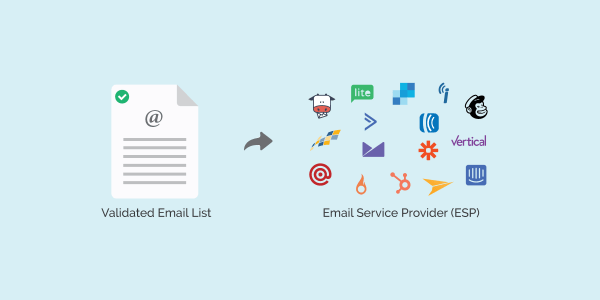 MailboxValidator enables you to export your validated email list into another Email Service Provider (ESP) account. A vast choices of ESP accounts available, such as MailChimp, SparkPost, SendGrid and so on. Regardless of whether you manually update your email list for validation, or import your email list from an ESP, for example, MailChimp, for validation, you can now easily export the validated results into any other ESPs with a few button clicks. You are no longer limited to one ESP, but you can easily migrate lists among our supported ESPs at your convenience.
The export process will create a new list with the name "-mbv". This new list will only contain good emails which are available for email marketing purposes. Maintaining only valid emails will help to reduce bounce rate and increase signup rate.
To use this feature, you can start by following the steps below:
Login to your account and go to the Bulk Plan page.
Choose the list that you wish to export and click on the view button.
You will notice that there is a new button called "Export to ESP" below the page title. Click the button to continue.
A popup box will appear on your screen. Now you can choose one of the numerous ESPs supported by MailboxValidator and click on the export button. Note: if there is any ESP that you have not given authorization before, you will not be able to choose those ESPs in this step.
Wait for a while and you will able to see a success message stating that the export is successful.
In summary, having the flexibility to migrate from one ESP to another ESP is essential, especially when you have to move lots of contacts. By using MailboxValidator, you are able to reduce the hassle of moving your contacts. However, take note that only those emails that are uploaded through the MailboxValidator dashboard, or being imported through integrations can be exported using this feature. Those emails that are validated using the MailboxValidator API service are not eligible for this.
---
Get started with MailboxValidator
Improve your email deliverability and sender reputation in email marketing.
Register today and clean your email lists for FREE!
---